Testimonials
MIRACLES IN A BOTTLE
"I have NEVER used ANY products as incredible, dare i say miracles in a bottle, as the ones by Chatto. Incredible lady and products-the best ever! I am now addicted to their personalized products! LOVE!"
---Cory
Excellent Products! Chatto knows how to style hair and keep it healthy.


Nature's Natural Mom and Daughters (Gold Creme)
I am of mixed raced and my hair is always hair dry and frizzy. I came to Chatto for a haircut. She took care my hair and put some of her products in it. I ended up purchasing the mom and daughter, the spray and shampoo basically the whole kit. These product are amazing.

Cassandra Smith

June 29th, 2011
I bought the mom and daughters from Chatto. I am a Caucasian lady with blonde hair. I have fizzy dry hair. For 45 years in my life, I am amazed cause me hair has never looked like this.
Vanessa W.

I absolutely love the mom and daughters hair softener. It adds the perfect amount of moisture and shine without adding too much. A little goes a long way. I love applying it daily and I recommend that everyone own a mom and daughters. It's the best.
Naniya L.

Nature's Natural 6 Plus Growth Cremes-Formula 1 and Formula 2
My hair has never grown so fast & healthy
"I first started using Chatto's 6-Plus Growth Creme in September. I noticed an improvement in my hair within several weeks. My hair has never grown so fast! The creme is a perfect texture for my hair. I came back to buy two because l didn't want to run out."
Amanda Belo
I as completely bald and someone recommend Chattos. She recommended Formula 1 and Formula 2. Then I had a consultation and bought the moisturizers, cremes and sprays. This is my second service with her and I am pleased with what I see. My hair as started growing beautifully.

"I Had Given Up!"
"I met Chatto at the Black Women's Expo in Chicago. I saw one of her cards showing before and after pictures of people with alopecia, shedding, breakage and balding. I didn't really believe the pictures. I had given up on growing my hair. I thought my hair follicles were dead. But, I decided what do I have to loose. Maybe just maybe Chatto's products would really help me. I went to Chatto for a consultation and to my surprise she was confident my hair was not dead and that she could grow my hair. Well I began to use the 6-Plus Growth formula 2 products and within 3 months I notice my hair growing. My hair is growing stronger, thicker, and healthier everyday. I love the passion and genuine care Chatto shows her customers and I now have hope again.
Thanks Chatto for your incredible hair products and all you do."
K. Brooks
Evanston, IL
I have really thin edges in the front and back. I was recommended to come in for a consultation and try Chattos Formula 2 by a friend. So I called and made an appointment. I came in a few times and have seen growth, compared to the other products I've used on my hair. Any one with thin hair or edges you need to own Formula 2. It's a miracle growth crème. Im telling you.
Sheryl Ononoka

Nature's Natural Aloe Moisture Mist
"THIS IS A WONDERFUL MOISTURIZER"
"When I heard about this product, I was a bit skeptical because there were not very many reviews out there on it. So at the referral of one very satisfied customer that I recently had the pleasure of meeting, I decided to give it a try, as I'd already tried everything else for moisture, one more couldn't hurt. And I must say I am VERY glad that I did! When I sprayed it on my hair, and worked it in, it immediately began to feel moisturized, and very soft to touch. I have Afro Textured hair (tightly coiled, cottony 4a/4B textured hair)It is very proned to dryness and sucks up almost everything I put in it, and dries sort of dense and dry feeling? But with this, it seems like my hair is exuding moisture(it actually looks soft and moisturized) and it's very pliable, I even get a nice sheen with this product,(and I can see my coil definiton better!) It also has a wonderful smell,, very fresh. I really love this product! They also sale other all natural products, Like twist and loc gel that defines & soften really well. You can get more info from [...]. I don't think a lot of people with afro textured hair, or hair that is prone to dryness know about this product, and they should! It's much better than a lot of higher end, highly marketed natural products that are out currently."
C. Hawthorne
Uni Locs Residue Free Shampoo
I finally used this shampoo and it is great. It absolutely cleans your dreads like no other. In my opinion this is the best dread shampoo (RESIDUE FREE SHAMPOO) I've ever used. It doesn't take long to lather at all. After your first wash u are good to go.my head feels squeaky clean rite now as I sit under the dryer.A+++

Rahsaan Hunt

This product is excellent! You can smell the herbs and your scalp feels so clean after use! Even my male roommates commented on how nice my hair looked after a few weeks of using this shampoo! It IS pricey BUT it's a quality product. I wish it was a little thicker though . . .
QAmidala

December 19, 2011
"I have tried many dread shampoos and this one is the best, smells great and rinses clean! I have noticed better hair growth as well, makes the price worth it! I will be comming back for more!"
Rufuscrh
Amazon Customer

I finally used this shampoo and it is great. It absolutely cleans your dreads like no other. In my opinion this is the best dread shampoo I've ever used. It doesn't take long to lather at all. After your first wash u are good to go.my head feels squeaky clean rite now as I sit under the dryer.A+++
Rashaan
Amazon Customer

Uni Locs Shampoo Bar
This product is great no hype no bs i have had dreads for 6 months i bought this shampoo bar in june its done now in december my hair is meduim length but still i wash my hair every 2 weeks it lathers very well on the second wash your hair feels clean and it smells natural its just a good product the ingridents everything i dont have a problem with lint so i dont really understand the first reviewers opinion thank you
Boss

Amazon Customer
I was looking for an all natural shampoo to use on my locs and thought this may be the solution I was looking for. First, I love the shampoo in a bar form I have long locs and was much easier to use the bar rather than liquid soap. I also loved the smell of the soap and and made my hair feel very soft even without conditioner! The bar lasts a long time as well. After two uses I have about half left, since my hair is so long if the bottle is smaller about 8oz(think the size of Carol's Daughter shampoo) it is gone in two washes. I have also had problems with my scalp and have prescription spray, and since using this shampoo it has been much
Twist and Gro: Loc Gel
"All Natural"
"This product works well for me and it is "all natural". No parabens, no cones and no pvp. Nothing that coats the hair to prevent moisture from getting in and my hair needs moisture...In order to maintain a short curly afro look I wash, deep condish, add leave-in conditioner and finally moisturize with Chatto's Loc and Gro get from root to tip and tightly curl my hair (I make my own curlers). In the end after my hair is dry, I'm left with tight curls which I separate then fluff with a pick. I usually don't have to comb my hair out again until my next wash which is usually every 4 to 7 days. If my hair gets a bit dry during the week I add a bit of the Twist & Grow Loc Gel or I lightly sprit my hair with the Chatto's Aloe moisturizer mist which I allow to air dry before fluffing my roots."

David D.
California
I use this twist & grow to do 2 strand twist. It is great moisturizer. my twist
last up to 2 weeks. My hair is very dry and frizzy, I'm always trying new products to help control the frizzys, and this product works. I would purchase it again.
Hstls7
Amazon Customer

I give you five stars. The total service was nice. Best experience with my twist
Ivan Hardaway

Uni Locs Aloe Moisturizing Conditioning Mist
"It Works!"
"I am only giving this product a 4 because I just started using it two days ago. I twist-straw curl my hair and have recently been shopping around for a more natural loc and twist gel without mineral oils and came across Twist&Gro Loc Gel by Chatto on Amazon. I ordered the Loc Gel (which I will try this weekend) and included with my shipment were samples the Uni-Loc Aloe Conditioning Moisture Mist, the shampoo soap and the organic loc gel. Whenever I twist-straw curl my hair by day three it looks/ feels dry and frizzy, especially in the back. Yesterday I sprayed some of the Aloe conditioning moisture mist in my hair and I was amazed by the moisture it adds. My curls looks fresh and soft and my hair does not feel or look oily. I am African American and my hair gets very dry. I am liking this product so far. It adds moisture without feeling greasy. I am currently using it with a bit of shea butter. I lightly spray my hair and wait about 10 minutes for it to air dry then I add a dap of shea butter and then style. I think I will have to opt for the bigger bottle."
David D.
California
Hello Chatto...You encouraged me to continue using the Aloe Moisture mist Spray. Well, at first I didn't like it but now I love it! You were right, the spray mist puts just the right amount of moisture in my dry hair. I use it daily, and follow with a spray of oil sheen. Your moisturizer with the oil sheen is just the right daily combination. Thank you for allowing me to try the product first. I will be a continuing customer now.
Thanks Again!
Pamela Randalls
Purely Organics 6 Plus Leave In Conditioner
"I really like this product. I have African natural hair. With natural hair, usually after you wash your hair and the hair dries, it becomes hard. I use this product just after I rinse out my conditioner, while my hair is still damp. Then, I follow it up with shea butter while the hair is still damp. When it dries, I notice my hair is softer than it used to be. Also, if at the end of the day your hair gets dry or starts to matte. You can use this product on the dry hair and follow with shea butter and it makes it soft again. It also defines the curls. I definitely recommend this product."
Somua
Amazon Customer
I had a wonderful experience. My hair was huge. I went natural 3 years ago and it was a big poof of hair. It was dry and you couldn't see my curls. Thanks to Chatto and her products, I can actually see my curls, my hair moves, and there's moisture! Thank you for helping me tame the beast!
Shena Omotola-Davis

Chatto Color Shampoo (Available Online Soon)
I have Locs and I was reluctant to put color. I searched online and found Chatto's salon. I brought a picture of the color I wanted. The best part was she used a color with no ammonium which is a permanent color and the color that came out was the exact color I've been dreaming about. I would recommend her to anyone that has Locs and looking for hair color.
Shanna Thomspon


I have just tried Chatto's New Color Shampoo and Color Enhancers and mind you they are Sulfate Free. This stuff is amazing. I ended up trying the Color Shampoo for my Dark Brown hair and it has intensified my hair color to no end and brought an unreal shine. This stuff is amazing. My hair looks newly dyed and brand new. I am a loyal customer for life for this shampoo. Everyone should try it It is AMAZING!
Kayla Bell

Chatto's products are wonderful and have worked magic on my skin and the fact that I have been a client of hers for more than 15 years says it all!
Bridget


Excellent Skin Care Products!!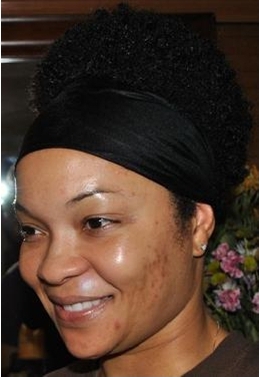 AFTER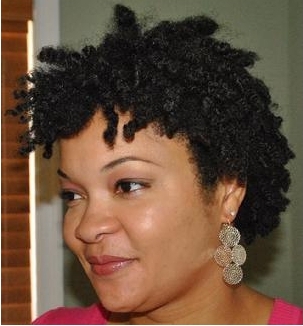 Chatto,

I want to thank you for your excellent products. I guess it's possible that my face would have cleared up eventually but I definitely credit you and your products for how fast my skin has rebounded. I am attaching photos of March 2010 and June 2010. Only 3 months and SIGNIFICANT improvement. I started using your products in late March after meeting you at the Baltimore Natural Hair Care Expo on March 20th. I bought samples that day and started using it that night.

Brenda Graham (Baltimore)
Razor Bumps are GONE!!!
"Being a black male, the (razor bumps problem) is an ongoing condition that is always a battle. I am extremely happy with the way Chatto's Shea Butter Black Liquid Soap and daily moisturizer have minimized my razor bumps. After about 4 weeks of continuous usage my face was smoother than it had been in a while. Thanks for these wonderful products."
Charles Chapman (Chicago, IL)
"Your products are the best I've ever tried. They truly deliver results. My favorite is the Black Aroma Liquid Soap. I love it for my face, although it's good as a body wash. I also enjoy the collagen creme and the 100% Pure Shea Butter with it's wonderful scent. The product loaded with vitamins and antioxidants, is a wonderful moisturizer that I use for my teenage son's acne problem. It really works!! Along with the courteous individualized attention I receive, I couldn't ask for anything more. I was surprised when I called and visited the shop, you remember me. I felt more like your friend than a customer. Thank you very much for these wonderful products from the mother-land of Africa. You have a customer for life!"
Jacqueline Smith (Chicago, IL)
God Sent
"I met Chatto at the black women's expo and she was issuing out samples. After looking at my face, she gave me an enzyme scrub, black liquid soap and Shea butter. I followed her instructions. What a great difference my face felt and looked. My sister even notice a difference. I brought my daughter to her because of her eczema. Chatto issued her Shea butter, black liquid soap, enzyme scrub, but most important she inspired her. Her skin is looking so much better than before. Using medicated creams is a waste of... However using Chatto natural products is a peace of mind and it works. Thank you Chatto for sharing your gift."
Jeanie-Chicago, IL
Eczema Products
I have a severe eczema. I was recommended by friend to come see Chatto. She advice me on how to eat what to take and now I see better improvement with my eczema.


My daughter at 16 has had a severe eczema since she was born. I met Chatto at the expo in North Carolina. She convinced me and sold me products for my daughter. Itching is gone and we are amazed. We see great improvement coming.
Angela Lynch

Mild Strength Moisturizer
I came for a consultation for Chatto because my daughter has severe acne. I was reluctant because we have been to the dermatologist so many times and it was not clearing up until she convinced me to purchase a skin care mild strength. Within a week I have seen 8% improvement.
Cheryl

Looking Better all Thanks to You!!

Dear Chatto:
"I am writing to compliment you on your fabulous dark-spot treatment creme product!
It has been approximately one month that I have used the creme and it has done wonders for my skin! It has evened my tone and faded away the blotches. I even use it on my knees and elbows.
As you know, my skin was not in that bad of shape. However, I have received numerous compliments regarding my complexion and lots of women asking what type of foundation I use. You and I know I have not changed my foundation or my soda drinking or my eating habits and my skins looks great! You should really try to market your product. I wonder what would happen if I used it correctly? Morning and at before I go to bed. Of course, I forget sometime but I've been pretty good about it and prettier for it.
P.S.........My braids are awesome! I have had people of all cultures compliment my braids, both men and women. I had an event at the Adler Planetarium on February 6th with 500 guests and I promise you at least 300 of them had something nice to say about my braids or my skin (I'm not counting the women's men who just gave a wink and smile). Even the one's who I thought might find them offensive at my corporate meeting were of course amazed at how I could go from a short doo to shoulder length braids. All of my counterparts think they look terrific.
Chatto wonder if it's the braids or my beautiful skin? :) I'll be calling for an appointment for my daughter at the end of the month.
Thanks for your services, it's well worth the money."
---Aretha (Chicago)

"I just wanted to take this opportunity to let you know how much I enjoy using your products. It has been almost 1 year since I
started using your products and I am still seeing results everyday. When I metwith you at the Black Expo, I was still very skeptical. After 2 weeks of using the product, I noticed such an improvement that I had to continue using the products. Your willingness to give me a complete refund if I was not completely satisfied truly impressed me. As you can see, I have become a loyal consumer of your product. Since I began using the Shea Butter Black Liquid Soap, Enzyme Exfoliation Scrub and Skin Beautifying Milk, my mother, two aunts and grandmother have also begun using your products. As a result of your generous supply of samples, people have learned about the miracle uses of your Shea Butter products.
I am definitely a satisfied customer. Thanks again for the wonderful products!!"
LaShaun Skillings (Chicago, IL )
CHATTO'S SKINCARE TRULY WORKS!!
"I came into your shop a little over two weeks and purchased a starter kit. I must tell you, when I was told that I would see a difference the next day I didn't believe it, but I used the products as instructed and the next morning I was pleasantly surprised. My acne was noticeably improved and my fiancé agreed. I have been using your products everyday since and I am happier everyday. The moisture cream has worked better than the prescription fad creams that I have used in the past...my blemishes are fading everyday. Thanks so much for your products......"
Michelle Barnes (Atlanta, Georgia)


YOUR SKIN CARE PRODUCTS WORK!!
This is in reference to the skin care system that Chatto has introduced me to. I have always had oily and blemished skin from high school till a couple of month's ago. I have very sensitive skin and have used as many products that was out on the market. From Fashion Fair's Vantex, Edgar Morris, Black Opel, Neutrogena, Black and White Cream, Ambi and Noxzema. Non of these did anything for me, even Mary Kay didnt help. I had almost given up hope, until I went to a Women's Black Expo and saw Chatto and her products. At first, I was a little hesitant because I thought just like the rest it would not benefit me, but something in the back of my mind told me to try it. And I must say that I wish I had know about Chatto years ago. My skin has never looked better. People compliment me all the time. I can honestly say that Chatto is a daily and important part of my life and I plan to keep it that way. I believe in Chatto so much that I have referred several people to Chatto's Skin Care and they all rave about Chatto. I feel like the official spokesperson for Chatto products. All I can say is keep uo the good work and you will always have a faithful customer in me."
Alecia Beckhom (Chicago)
MY SKIN PROBLEM IS SOLVED, YOUR SKIN CARE PRODUCTS ARE INCREDIBLE!!
"Thank you for introducing your skin care products to me at the Black Women's Expo. I must admit, I was initially reluctant about buying the products, because I have used several skin care products without any major effect. However, your Enzyme Scrub, Black Soap Cleanser and mild treatment facial cream have gotten rid of all my acne problems. To date, my skin is smooth and my face is acne free. Your skin care products are truly incredible!!"
Victoria Nyarko
CHATTO'S SKINCARE TRULY WORKS!!
"I came into your shop a little over two weeks and purchased a starter kit. I must tell you, when I was told that I would see a difference the next day I didn't believe it, but I used the products as instructed and the next morning I was pleasantly surprised. My acne was noticeably improved and my fiancé agreed. I have been using your products everyday since and I am happier everyday. The

moisture cream

has worked better than the prescription fad creams that I have used in the past...my blemishes are fading everyday. Thanks so much for your products......"
Michelle Barnes (Atlanta, Georgia)
THANK GOD FOR CHATTO'S SKINCARE PRODUCTS
"Thank you for your products. Initially I was hesitant concerning this product that I had only heard about surfing the web, but I thought since it was basically a natural skin care product line, I should at least try it. I had problems with razor bumps and discoloration in my shaving area but since l have been using your product I have noticed a wonderful improvement. I have the shea butter black liquid soap to wash, the

exfoliation creme

to clean, and the

moisturizer

to restore moisture to my skin. These products have been a God-Send. In fact, I shave with the pure shea butter and am extremely pleased with the decrease in razor bumps and discoloration of my skin tone. I certainly want to thank chatto's skin care for all that's been done to improve my skin. I recommend anyone that desires better, clearer skin to use Chatto's Skin care, they'll be happy they did!!"
Pastor Daniel Richardson (Huntersville, Alabama)
BEST MASK EVER!
"I recently had a hysterectomy and started breaking out like a teenager. Chatto's Enzyme Exfoliation Cream cleared my scne right up and I look like myself again!"
Bridget (Chicago, IL)
I Will

Remain A Loyal Customer, Chatto's

Products are IRREPLACEABLE!!


"I've been using Chatto's products for years, but because of financial reasons, I had to stop. Having stopped, my skin became lifeless with rosaceous, not a bad case, but a concern. I also struggled with dark spots and dry skin. Before stopping usage, I used the Shea Butter Black Soap to cleanse my face twice
daily and

Enzyme Exfoliation

Cream

which would clear all the pimples from my face overnight. Chatto recommended a cream that cleared my dark spots. I LOVE IT! Getting back on the products about a year ago, my skin is back to perfect. I can't say enough about Chatto's products. Oh, I forgot, I also use Chatto's
6-Plus Growth Creme Formula 1 for my hair, which gives my hair shine, softness, and body. I LOVE IT! Take it from me, If you want to be a 60 year old cover girl who they say looks 40 years of age...USE CHATTO'S
PRODUCTS, THEY'RE THE BEST!! Thanks so much Chatto for all your help. I will remain your loyal customer and will share your products with my daughter and granddaughter."
Sandra Smith Hopkins (Nutley, NJ)
Throughly Satisfied and AMAZED! "I am thoroughly satisfied and amazed at the results from Chattos product. 3 ago, I was frustrated with (4 years) of personal hair battles of breakage, loss drynessand un-managability. My cousin called me ranting and raving about this "miracle" stuff she had been using for her stressed induced Alopecia that was actually re-growing her hair!
I would like to share my experience with your Chatto skincare products. I was most satisfied with your Shea Butter Black Liquid Soap. My face is now in it's best condition I have ever seen it in and the dark part of my cheeks isn't dark anymore. I also liked the the Enzyme Exfoliation Scrub because it made my face look radiant especially following the use of the Shea Butter Black Liquid Soap.
Thank you and I look forward to purchasing with you in the near future.
Heather X. Wilson
Chatto is very friendly and extremely knowledgeable. Her salon environment is relaxing and she is willing to explain the products to you so you learn how to apply them properly. Chatto will help your hair be healthy and moisturized.
Meagan Burger